Since I am closing my other blog, I transfered my friday fill - ins here, so that I have something or meme to post in this blog every Friday.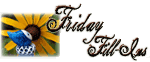 And...here we go!
1.
Eggs
and
noodles
make a quick and easy dinner.
2.
Tagalog Pocketbook
is the book I'm reading right now.
3. July brings back memories of
my Father's Birthday
.
4.
My fat bumpy 36 weeks tummy
was obvious.
5. They say if you tell your dreams
they won't come true
.
6.
Before you make a huge decision that you have
to think it over.
7. And as for the weekend, tonight I'm looking forward to
try the brusters ice cream and bloghop a little
afterwards
, tomorrow my plans include
folding and ironing clothes that has been setting there on the ironing board upstairs for 2 weeks already
and Sunday, I want to
relax and do nothing
!