It's Friday again, a time for Friday fill-ins. We'll see what we can do for this weekend.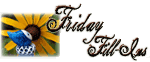 And...here we go!
1. It's time for a
nice relaxing weekend without worrying anything
.
2.
Cemetery
; it's not a bad place for
meditation hehehe
.
3. I must be
getting to bed now coz it's late already
.
4.
My husband
is the best thing I have ever known.
5. My
sexy love handles in my body
is simply
irresistible
.waaaaa
6. The last time I laughed really loudly
was this afternoon when the buckaroo discover a new tricks to amuzed himself. He was just too weird and funny when he did those thing
.
7. And as for the weekend, tonight I'm looking forward to
eat have hamburger for dinner
, tomorrow my plans include
sleeping, eating and blogging
and Sunday, I want to
do nothing but eating
!
Have a fun filled weekend everyone!!!