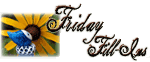 And...here we go!
1.
Ice cream
is my favorite summertime
dessert especially if the weather is so hot and you are out for a walk or vacation at the beach
.
2. My favorite John Hughes movies is
I don't know who is John Hughes hehehe
.
3.
My baby's soft and delicate skin
is something I love to touch.
4. The full moon
is so pretty to watch at night
.
5.
I gotta go to bed
right now
after writing this post waaa
.
6. When daylight fades
its night time I guess
.
7. And as for the weekend, tonight I'm looking forward to
more rest and probably bloghop a few
, tomorrow my plans include
going to slippery rock to visit Mary and SIL with her kids from new york for them to meet Baby Justine
and Sunday, I want to
rest, rest,rest and more rest
and of course taking care of Jake and baby Justine!