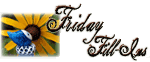 Questions this week are courtesy of Janet's friend, Karen and her cousin, Maribeth. And...here we go!
1. I remember, I remember the
day I gave birth to Jake and Justine
.
2. Dear
Joe, Jake and Justine
I want you to know
that I love you so much
.
3. Is that my
wallet in your purse
!!???
4. I'm trying to resist the temptation of
drinking coke while I am still breastfeeding and constipated
.
5. I'm saving a
cold refreshing ice cream and cake
just for you!
6. If I made a birthday list
cake, ice cream, balloons and you
would definitely be on it!!!
7. And as for the weekend, tonight I'm looking forward to
bloghop a little and sleep early
, tomorrow my plans include
watching the kids, and hopefully rest since hubby will be working
and Sunday, I want to
rest,rest,rest and moooore rest and sleep
!