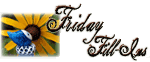 And...here we go!
1. My car is
vassarette brand of slipper and hubby's car is mercury sable, I don't have car folks
.
2.
Monk
is coming up next.
3. Lately, things seem
like so busy and tiring
.
4.
Dark room
is one of my favorite 'hiding' places.
5. What happened
in vegas stays in vegas hehehe
.
6.
Finding a well paid and respectable job in the future
is not impossible!
7. And as for the weekend, tonight I'm looking forward to
stay up late again to watch TV, write my post that is why I was late in posting my friday fill-ins
, tomorrow my plans include
updating my blogs, watch the kids as usual and do some chores
and Sunday, I want to
relax, its a come what may plan
!