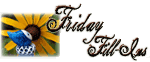 And...here we go!
1. I feel
always tired and exhausted at the end of the day from taking care my two lil Rugrats
.
2.
Playing with Jake, blogging, shopping
is always fun.
3. Right now, I can hear these things:
ungaaaa ungaaaa eh eh eh waaaaahh prooot poop!! from Justine, boo, baa, dada...nonono... from Jake
.
4.
It's been a month since I gave birth to Justine
and I'm glad
because we finally met our lil princess and its heavy carrying those big tummy
.
5. The last time
I
went shopping and been in the mall
was
July I think
.
6.
We are going to sleep, rest and take the day easy
this Labor day weekend.
7. And as for the weekend, tonight I'm looking forward to
get more sleep after I blog and do my rounds
, tomorrow my plans include
get up late, give Jake and Justine a bath, go to hubby's colleague house party
and Sunday, I want to
go shopping at walmart and buy stuff we have on the list that we are going to need
!