Imagine how time flies, it's already Friday again and after weekend, back to work again. Seems like the weekend is sooooo short as in short short short before we know it weekdays again and back to work. Ohh man! I never had rest day since I came here. No more me time, no more rewarding time. It seems like our days are always busy everyday. Today is also the anniversary from that 9/11 8 years ago. Let us reflect and pray for the family who lost their love ones during 9/11.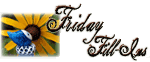 Time for Fridayfill-ins hosted by
Janet
And...here we go!
1. That's a
good plan
to be.
2.
Ahh helloooow
; I'm over here!
duh!!!
3. The possibilities include:
not to get pregnant again and settle in with two kids only
.
4.
Binignit back home
is one of my favorite cool day recipes.
5. How will you know
if he is telling the truth or lies
.
6.
Typhoon
and a stormy sky.
7. And as for the weekend, tonight I'm looking forward to
visit blogger friends blog
and go to bed late
, tomorrow my plans include
cleaning, taking care my monster the babies, watch movies on HBO
and Sunday, I want to
visit my MIL at slippery rock and rest
!