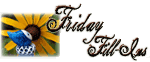 Join Friday Fill-Ins hosted by
Janet
And...here we go!
1. One week ago
since the last time we went to Slippery Rock and visit my MIL
.
2.
I remember
when I was young
I used to steal pineapple and got caught many times
.
3. Mama told me
I am not pretty and bitchy
.
4.
Together forever
you and me
and the kids
.
5. Take your time
I am not in a hurry and not going anywhere either
.
6.
When I took my licesure exam for teacher for the first time, I didn't even went to a review class plus always with friends every night and came home early in the morning drunk I did not expect I
will pass
I got lucky waaaa
!
7. And as for the weekend, tonight I'm looking forward to
fill this friday meme quick so I can go to bed soon
, tomorrow my plans include
cleaning, laundry, blogging, watch my dinos
and Sunday, I want to
relax and blog a little
!